FAQs: What Needs to Be Done When Someone Dies
Sept. 7, 2021
The passing of a loved one, no matter the circumstances of their death, will have a lasting impact on your life. In addition to the difficulties of the death itself, the decedent's estate must also be managed and ultimately closed.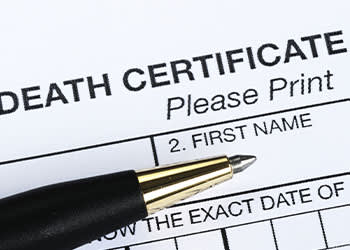 According to a Will & Estate Planning study, only 32.1% of adults had a will in 2020. Whether your loved one did or did not make a will, there will be questions about what to do after his or her passing. In every way, this is an incredibly emotional time.
My firm in Woodbridge, New Jersey helps families manage their loved one's estate and handle any issues in the aftermath of their passing. I want to help you navigate this process and understand what happens next. Here are answers to eight common questions about what needs to be done when someone dies.
What is the first thing I should do when a loved one dies?
First, you need to obtain a legal pronouncement of death. If your loved one passed away in a medical setting, then you can rest assured knowing that the staff will take care of this.
If your loved one passed away at home, however, then you need to call 911 as soon as possible so that your loved one can be transported to an emergency room where he or she will be pronounced dead.
Who do I need to notify?
You need to notify the deceased's family, friends, employer, coworkers, bank, the Social Security Department, and his or her insurance companies. If your loved one was a member of a church or other religious institution, you should notify them as well.
If you think you may have missed someone, or you're not sure where to start, it's a good idea to look at your loved one's contacts, whether in their phone or a physical address book. You may also check their email to see if there is anyone you may have missed.
What funeral arrangements should be made?
First, you should find out if the person who passed away had made any estate planning documents detailing their final wishes. If they did, then these wishes must be followed.
You should also find out what their wishes were for the disposition of their remains (whether they wanted to be buried, their ashes to be scattered in a certain location, or whether they chose something different).
What should I do about the children of my loved one who passed away?
If your loved one passed away and left children who are minors, it's important to be as sensitive as possible. The decedent's will or trust should detail who will become the children's legal guardian in the event of their death.
When there is no will or trust detailing guardianship, the courts may have to make the long-term decision. An estate planning attorney or probate attorney can help you navigate this process.
What should I do about the decedent's pets?
First, you should make sure that someone will temporarily care for the pets. You may need to board them at a kennel, but hopefully a family member, friend, or neighbor will agree to take care of your loved one's pets. Once there is more time, you should work on finding a new permanent home for the pets.
Do I need to get a death certificate?
If you are the executor of your loved one's estate, then you will need to obtain about 10 copies of the death certificate. These copies are necessary to close bank accounts, settle with life insurance companies, deal with the government, and manage any real estate issues.
How is the will or trust handled?
It's important to first locate your loved one's estate plan and then identify who will be the executor of their will or trust. When you know who that person is, you should notify them as soon as possible.
The executor is legally responsible for making sure that all the decedent's wishes are followed during probate. Probate is the process where the decedent's wishes as stated in the will or trust are executed.
Do I really need an attorney?
It's likely that you will need an estate law or probate attorney to assist with the administration of your loved one's will or trust. An attorney can file the will with the right probate court and advise you on how certain decisions will affect the estate at tax time.
Experience You Can Trust: Adams, Cassese & Papp L.L.C.
The days after a loved one passes away may be some of the most challenging days of your life. As you navigate this difficult time, you should be able to rely on legal counsel that puts your needs first. I strive to make your specific goals a top priority, answering the phone when you call, or calling back as soon as possible. In fact, I can visit your home to make sure wills or other documents are signed. My firm serves clients in Woodbridge, Sayreville, Perth Amboy, Edison, and the rest of New Jersey. When you're ready to get started, contact Adams, Cassese & Papp L.L.C. for a free consultation.