Why Estate Planning Is Important
Oct. 20, 2022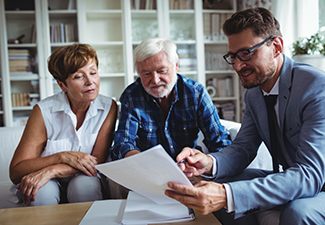 Writing your will may not be at the top of your list, but there are many reasons why having an estate plan is essential. Drafting your estate plan now will make life easier for your family down the line. It will also help provide clarity should an unexpected medical situation occur.
Whether you've never thought about your estate plan before or you already have one that needs updating, I am here to help. At Adams, Cassese & Papp L.L.C., I have over 45 years of experience practicing law, and I will bring my knowledge to assist your best interests. I encourage my clients to ask questions and to contact me directly. At my firm, Adams, Cassese & Papp L.L.C., I proudly serve clients in Woodbridge, New Jersey, Sayreville, Perth Amboy, and Edison.
Reasons Why Estate Planning is Vital
There are several key reasons why it is crucial to establish an estate plan sooner rather than later.
An Estate Plan Protects Your Family and Beneficiaries
When you establish a legally-enforceable estate plan, you control who will inherit the assets from your estate. Your wishes will be enforceable under the law. Furthermore, you will be able to protect your family and any other beneficiaries, such as charities or other organizations, through your estate plan.
An Estate Plan Protects Your Assets
For many individuals, it is important to set up a trust or trusts from which your beneficiaries will inherit. This will protect your assets from certain tax implications, saving your beneficiaries both time and money. An estate plan is key in avoiding probate as much as possible.
An Estate Plan Allows You to Name Your Representative
Should you become ill or incapacitated and unable to speak for yourself, a healthcare representative can make decisions on your behalf. If you do not name your healthcare representative, the state will appoint one for you.
Similarly, you can appoint an individual to make financial decisions and act as your agent on your behalf through a power of attorney in your estate plan. These are some, but not all, of the benefits of an estate plan.
What Happens When Someone Dies Without an Estate Plan?
An estate plan allows you to have influence and control over what will happen to your assets after you pass away. When someone dies without an estate plan, there is no control over your assets and how they are distributed.
The Probate Process
What exactly happens when someone dies without an estate plan? Dying without a will is known as dying intestate. While all estates go through the probate process, when someone dies intestate, the probate court names their personal representative (often referred to as the executor of the estate).
All assets are frozen until the court system looks through all of your estate details, applies New Jersey laws, and makes decisions on your behalf.
On the other hand, if you do name your personal representative in your estate plan, that individual will be legally responsible for carrying out your wishes. This significantly speeds up the probate process, allowing your beneficiaries to inherit sooner.
During the probate process, the estate must pay fees. After all fees, debts, and taxes are paid, all accounts, such as savings accounts, brokerages accounts, IRAs, and 401ks, will be distributed to the beneficiaries.
New Jersey's Intestate Succession Rules
Each state has its own laws regarding who will inherit if the deceased did not leave an estate plan. In New Jersey, the surviving spouse, registered domestic partner, or civil union partner is the first person in line who will be appointed to administer the deceased's estate.
If there is no spouse or partner, a close relative can be appointed to handle the estate; however, all other closest next of kin must agree that the individual should be appointed. If the assets of the estate are greater than $20,000, the court will appoint one of the closest next of kin as the administrator (or executor) of the estate.
The laws of intestate succession in New Jersey can be complex, especially when there was a previous marriage or children from a previous relationship. Speak with an experienced New Jersey estate planning attorney to learn more about how the law may apply in your situation.
Who Should Have an Estate Plan?
Everyone should have an estate plan, not just those who are retired or who have substantial assets. An estate plan serves the important function of naming who will inherit your assets, but it also allows you to name a healthcare representative in the event that you are unable to make medical decisions yourself.
Furthermore, an estate plan allows you to name a guardian for your minor children, establish trusts for relatives with special needs, and establish trusts for tax reasons. Ultimately, everyone should have an estate plan because it is impossible to know what the future holds.
Prepare for Tomorrow. Plan Today.
Establish your legacy by preparing your estate plan now. You can save your family and beneficiaries time and money by establishing your estate plan. An estate planning attorney can guide you through the process.
With over 45 years of experience, I can help you prepare an estate plan that leaves behind a legacy you will be proud of. I have helped multiple generations of the same families with their legal matters, and I can guide you through each step of the estate planning process. My firm, Adams, Cassese & Papp L.L.C., serves clients in Woodbridge, New Jersey, Sayreville, Perth Amboy, and Edison. Contact my firm today to schedule a free consultation.